Projects are the way to go when you need to coordinate several people in order to reach a specific goal.
Several people here means people who work as employees in your company, or people who work for external companies (who will obviously have more limited access to your company's information).
Apollo offers you a huge range of tools that allow people to work together efficiently: messages, task lists, tasks, milestones, files buckets, time tracking, and so on.
This way, everything relating to a project (files, things to do, contacts, etc.) will be available in one location (your Apollo workspace) to anybody working with you.
The number of projects you can manage depends on your plan. Remember that only active projects count towards your quota – the archived projects don't count, and you can have as many archived projects as you like.
This means that if your plan only allows two active projects, you can have – say – two projects actively going, and five completed projects archived in the system.
An active project can be worked on: you can add messages, tasks, files, and so on. Archiving a project immediately removes the ability to modify all the data associated with it.
You can always unarchive the project to re-enable it.
Archived projects are shown in a different tab (Archived projects); this way, old finished projects don't get in your way.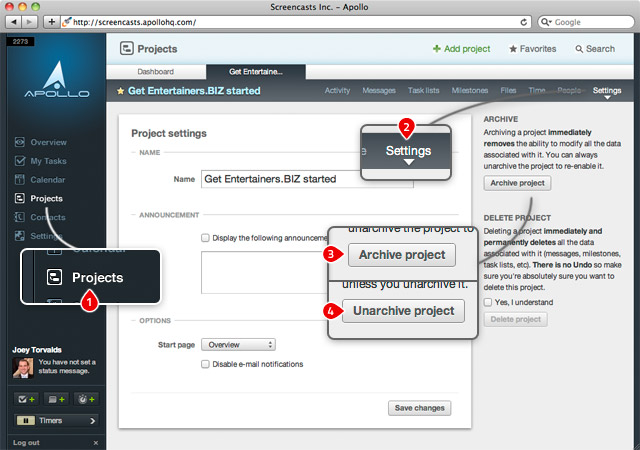 To archive a project, just go to Projects and click on your project 1, then click on the Settings tab 2. Then, simply click on Archive project 3.
To unarchive a project, simply click on Unarchive project 4 (the button is in the same spot where Archive project was before you clicked on it!).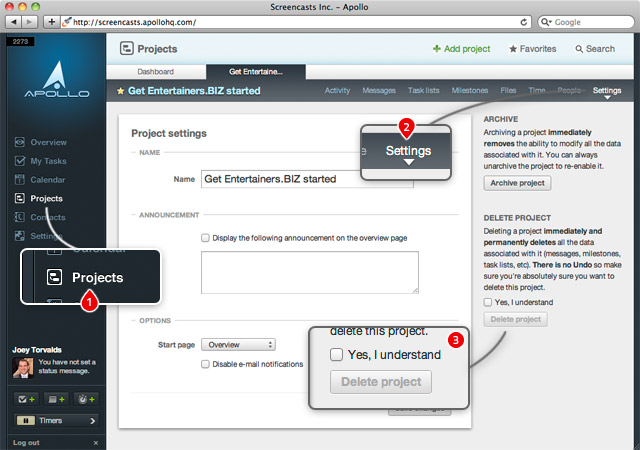 Just go to Projects and click on your project 1, and then click on the Settings tab 2. On the right hand side, you will see the Delete project button 3. There is no undo! You will need to be very careful with this feature: the project will disappear forever.
Just click on Projects on the left hand side 1, select your project, and click on the People tab at the top 2. Here you will be able to enable and disable people who belong to companies already involved in your project (just tick the checkbox next to their names) 3.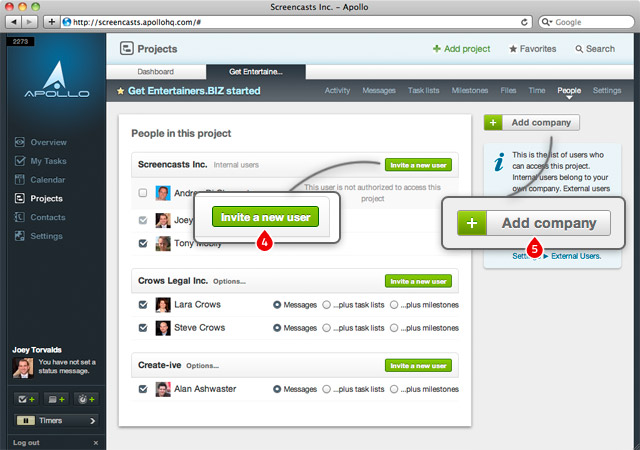 You can invite new people who belong to companies already involved in your project by clicking on the Invite button next to the company's name 4.
Finally, you can add a company to your project by clicking on Add company on the right hand side 5.
A strict project is a project that enforces a list of rules mostly about the start and due dates.
To make a project follow those rules, just enable Make this a strict project when creating a new project or from the Project settings.
Here's the full list of rules:
The project must have both the start date and the due date set.
Tasks with a due date must also have a start date set.
Milestones require a start date in addition to the due date.
The start date and due date on tasks and milestones must be in the project start/due date range.
Subtasks' start and due dates must be inside their parent task start/due date range.
Tasks in task lists related to a milestone must have their start and due dates inside the milestone start/due range.
Time entries' dates must be inside the project's start/due range.
Members of the project cannot log time on tasks that are not specifically assigned to them, unless they can edit other users' stuff.